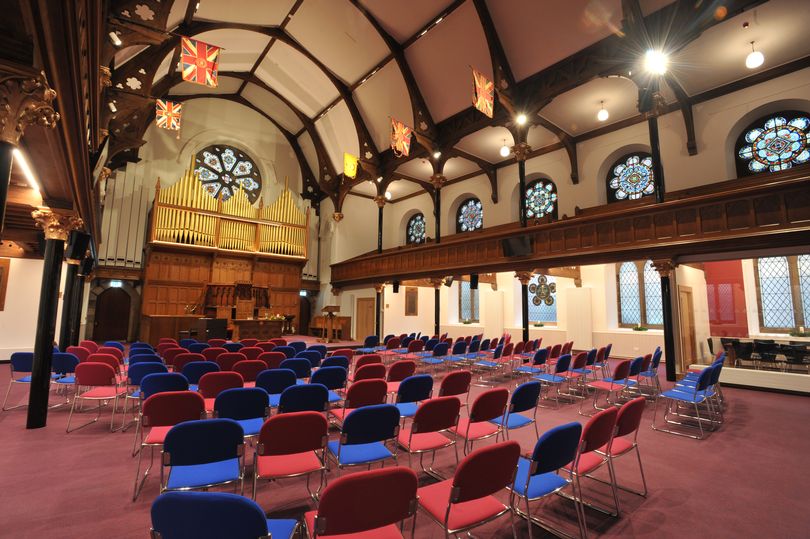 The congregation of St. Matthew's Church on Tay Street recently got to join their minister for the big moment of truth, when they entered the newly-refurbished building.
Over £900,000 has been spent in the last year bringing the iconic Perth place of worship into a warm and welcoming new era.
Among the first to pass through the tall doors on November 27 was John Spence in his electric wheelchair and baby Rory Boyde, getting a smooth ride in his pram. New ramped access and powered doors made it possible.
The date of the ribbon cutting, the first Sunday in Advent, was chosen as it was the closest to the church's original opening on November 23, 1871.
"This building has gone from inflexible to flexible, dark to light, cold to comfortable and inaccessible to accessible," said Rev Scott Burton, who has made pressing for the changes the foundation of his 10-year ministry at St Matthew's.
Warmly praising the contractors, local firm One Call, and all the contributions made by church members, he proudly showed the PA around the newly-opened interior earlier this week.
"If anyone has ever tried to quieten a toddler during a church service and felt the disapproving gazes as the child's toy drops loudly on to the floor, they will appreciate what we've done here," he said, pointing to a glass enclosed ante-room with sofas, cushions and canvas wrapped photo prints.
"In this new area under the gallery you can park up a pram, move freely and see directly through the reinforced glass to the very front of the church. All the audio is relayed, so you can take part without being in the main space."
There's a totally different ambience in the building where there's an open-plan cafe kitchen, and bold red back walls.
Over the from main door a message reading 'Forward in Faith' has been burnt into a board from an old pew by local pyrograph, Katie Streling.
"Those were the words that our session clerk Fiona Bruce ended her messages to me with when we were really feeling the pressure during the building work," explained Scott, happy to see one of the redundant pews reborn.
"Without the constriction of fixed pews it's possible to notice the details of the church like the beautiful stained glass and the carved woodwork.