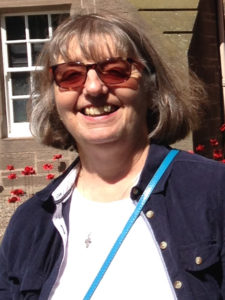 A Yorkshire lass with a Scottish family, I came to Scotland to study Divinity at the University of St Andrew and never left Scotland except to study in North Carolina and a brief sojourn in the West Midlands.
I ended up in the Church of Scotland by accident after a blazing public row with a recently retired Archbishop of Canterbury. I was one of the first women to be ordained to Ministry of Word and Sacrament and it was not an easy path, sexism and discrimination and sheer bad manners were rife.
My first parish was in Wrangholm Kirk New Stevenston at the back door of Ravenscraig Steel Works (or those with long memories). There I met and married fellow Tyke, David Firth who was the neighbouring Methodist minster. We have one daughter, Eilidh.
Whilst David was minister in Sedgley, Wolverhampton I trained as a teacher at Birmingham University and worked in Inner City Wolverhampton before we came home to Scotland and 14 years in Dundee where I worked as locum minister around the priority area parishes of Dundee and taught at the High School of Dundee. A bit schizophrenic working at opposite ends of the social spectrum.
Against all I ever said, my better judgement, and repeated "No!" I applied for and was called to Glasgow St. Andrew's East where I spent eight wonderful years, again in a Priority Area. The folk were warm, affirming and daft enough to try anything.
David and I retired to Auchterarder. David found St Matthew's and I tagged along. And as they say 'the rest is history'. I'm pleased to be back as locum at St. Matthew's and delighted to be sharing the job with Anne Brennan.