---
Iconic landmark church in Perth city centre towering over the beautiful river Tay. We are in vacancy at the moment, and looking for a new minister. If this could be you please get in touch...
***WEBSITE BEING UPDATED ***Iconic landmark church in Perth city centre towering over the beautiful river Tay. In January, we welcomed our new Minister Rev. Fiona Bullock.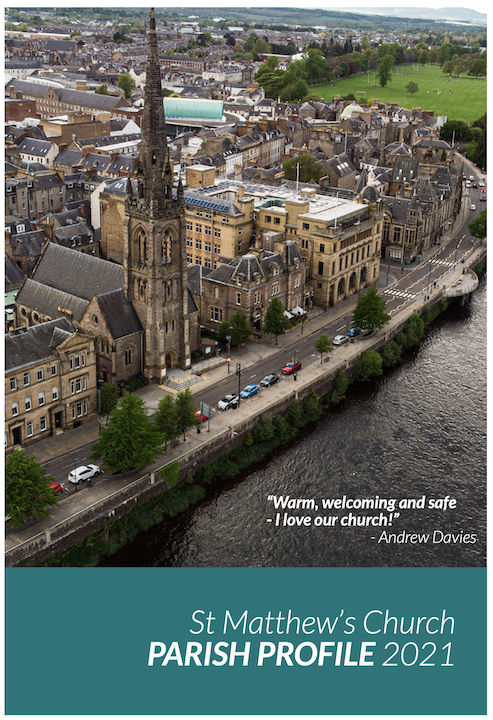 Find out more...
Our doors are open again and our self-distanced capacity allows 100 to attend our services.
You can also join us online - St. Matthew's Sunday Service on the Church ZOOM is at 11am every Sunday that we are in lockdown - please follow the link.
How it works:
It is the same as sitting in church except you are at home. The Minister, Rev. Fiona Bullock , will conduct worship, Michael will play the hymns and a selection of his music to suit everyone. You are "allowed" to sing to your hearts content. You will hear the music but no one, other than those in your own household, will hear the singing! We will all see each other singing and enjoying worship. There will also be a PowerPoint showing the words of the hymns.
CHURCH RE-OPENING
Psalm 122: I was glad when they said to me, "Let us go to the house of the Lord!" I am delighted to say that, subject to Government Guidelines on 23rd March and Presbytery approval, we are intending to re-open St Matthew's for our Easter Sunday service on Sunday 4th April at 11am. As before there will only be 50 spaces available in terms of Scottish Government regulations.
As this includes our Minister, Duty teams and A/V teams the available spaces should be booked on "Eventbrite" once again and this also helps with our "Track & Trace" procedures. This link to Eventbrite https://www.eventbrite.co.uk/e/sunday-worship-tickets-127686837769 will allow you to make your booking or phone Bev, our Facilities and Outreach Manager, on 01738 259961 (between 10am and 5pm).
If you are not on the internet or internet spaces are full you can make a booking also by phoning, Bev.
Appropriate physical distancing and sanitising facilities will be in place and we are all required to wear face coverings.
Music will once more be provided by our Organist, Michael Ellacott, who will lead us in song but unfortunately the congregation is still not permitted to sing. However, there is one difference in that it is hoped that we will be able to "livestream" the service to you. See the boxed notice for details of this exciting new venture.
Thanks to John Paton, Alastair Byers and Tom Morrison for organising this. We do need more volunteers to assist with the A/V so please contact Alastair Byers on alastair.byers1@btinternet.com should you be able to take your place on the Rota. Full training will be given.
CLEANERS NEEDED

Can you offer your time Saturday morning to give the church that bit of extra care that will make the difference for everyone?
Saturday 11th Sept 10 -12 Preparing for Doors Open Days.

and

Saturday 13th November In preparation for our 150th Anniversary Service.
Traditional WorshipSunday 11am
Weekly
---
St Matthew's Parish Church Tay Street, Perth.PH1 5LQ
Scotland
---
The ideal Conference and Concert Venue
Our Main Sanctuary can comfortably accommodate 240 people and is well heated. We have a state of the art projector, screen and sound system. Our staging is movable to suit your needs.
Seek the kingdom of God above all else, and live righteously, and he will give you everything you need.
Matthew 6:33